1.
For
Infinix and Tecno
use
Infinix/Tecno without Test Point method
2.
For
Vivo
use
Vivo without Test Point method
3.
For other models try different loaders and
base | model | DA | Local SLA
options (see images below)
4.
if you see in software log text
TYPE: NEXTGEN [LUCI]
select LUCI DA from the list.
NOTE:
latest CM2MT2 version is required to work with latest DA files!

5.
If problem still exist - use
TEST-POINT
More step:
1. Install laters CM2MT2 version and click to [Identify] - you will see list of suggested loaders. Try it.
2. Remember about boot keys, f.e.
Volume +
and
Volume -
buttons
3. In some cases it may be HW fault, f.e. faulty device DRAM or EMMC. Make HW report and try also boot over FireFly mode.
4. If nothing helps it may be some kind of new unsupported device - copy/paste here software log text and info about about the phone, developers will check it
5. Use this
tool
and upload your tested test-point images or new DA to server.
How to select different loaders: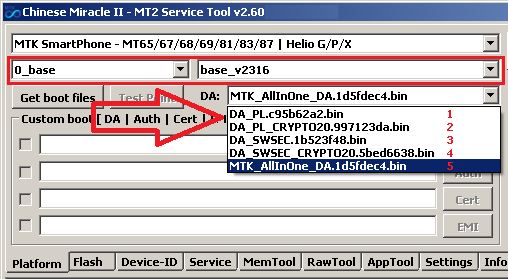 Try to change these config values: